Table of Contents
When you launch Outlook and Teams on Windows 10 workstation, you may receive the below error:
Your computer's Trusted Platform Module has malfunctioned. If this error persists, contact your system administrator with the error code 80090016.
More information: https://www.microsoft.com/wamerrors
Microsoft Office Version being used
Microsoft 365 MSO 16.0.13127.21062 (Microsoft 365 Apps for enterprise)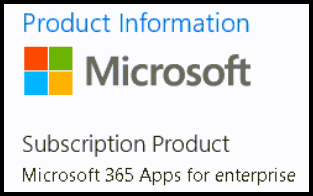 Screenshot: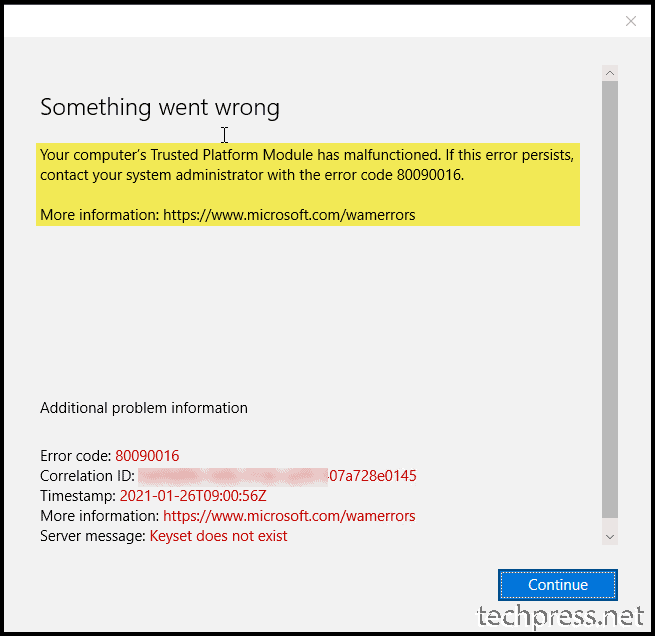 Also Read: How to reset / reconfigure Microsoft Outlook mail profile for Microsoft 365 / Exchange Online
Solution for Error code 80090016
Logoff current user.
Login on the workstation using administrator account.
Go to C:\users\<user account having issue>\AppData\Local\Packages\Microsoft.AAD.BrokerPlugin_cw5n1h2txyewy
Rename Microsoft.AAD.BrokerPlugin_cw5n1h2txyewy to Microsoft.AAD.BrokerPlugin_cw5n1h2txyewy.old
Log off from the administrator account and Login as the user.
Launch Outlook and Teams, it should work fine this time. OneDrive may have been signed out as well, you can sign in to one drive as well to check if one drive is also working fine at this point.
Other Solutions for Error code 80090016
The other solutions which could help in troubleshooting this issue are below:
If the issue reappears after applying the above fix. Please follow the below troubleshooting steps:
>Sign out from Microsoft Word or any MS office Application and close all the Microsoft office apps like Word, PowerPoint, Excel, Outlook etc.
>Create DWORD registry entry EnableAdal under HKEY_CURRENT_USER\SOFTWARE\Microsoft\Office\16.0\Common\Identity and set it to 1.

>Delete ADAL Authentication Profile for the user having issues. Find the registry entry HKEY_CURRENT_USER\SOFTWARE\Microsoft\Office\16.0\Common\Identity\Identities, under Identities registry keys there could be multiple folders, find the one for the user having issues. To find the Folder, Click on the folder and on the right hand side you will see the EmailAddress and other user settings to confirm if you are in the right folder. Once you confirm that, Export the folder to take the backup and Delete this folder.


>Launch Microsoft Word or Excel or any MS Office app, it will ask you to sign-in to the account for activation. Sign-in using your office365 company email address.
>Launch Outlook, Teams etc. and sign-in to other apps if required.
More Solutions for Error code 80090016
Completely uninstall Office with the uninstall support tool

including cleaning up of registry entries related to Microsoft office. Download this tool and uninstall office completely. Re-Install it again from portal.office.com.
Make sure Windows 10 is fully updated and apply latest patches.
Re-create Windows User Profile and Test again.
Restart the system and test again.
More Information:
https://docs.microsoft.com/en-us/office365/troubleshoot/authentication/connection-issue-when-sign-in-office-2016#symptom-1:~:text=Symptom%201
Also Read: How to fix Your PC couldn't turn off properly. Error Code: 0xc0000001 while booting up Windows 11