Problem Statement
When you open Outlook and Teams on a Windows computer, you might see the following error message:
Your computer's Trusted Platform Module has malfunctioned. If this error persists, contact your system administrator with the error code 80090016.
More information: https://www.microsoft.com/wamerrors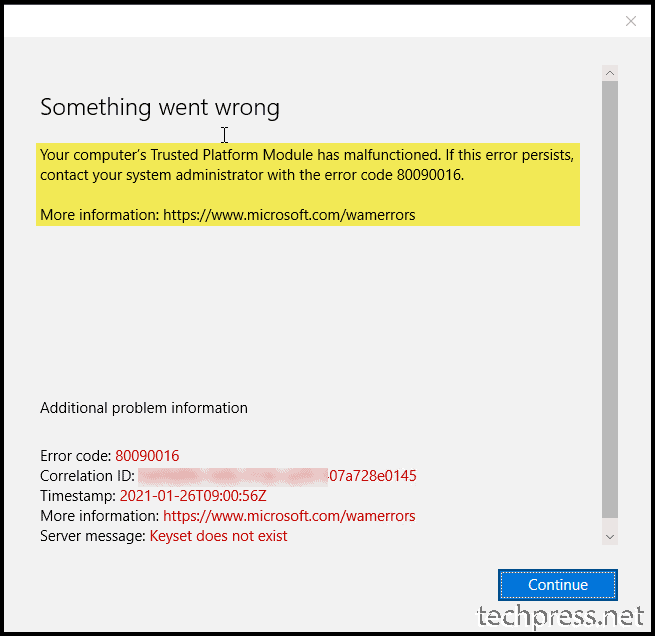 The fix provided is applicable for Microsoft 365 Apps for Enterprise.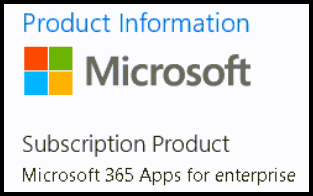 Table of Contents
How to fix error code 80090016?
Here are the steps to resolve error code 80090016 which can sometimes show up when you're using Microsoft Outlook or Microsoft Teams. I haven't come across this error in other Microsoft Office apps, but if you do encounter it in another Office app, you can still use these steps to try and fix the problem.
1. Rename Microsoft.AAD.BrokerPlugin_cw5n1h2txyewy folder
To resolve the issue, please follow these steps:
Log off the current user.
Log in to the workstation using the administrator account.
Navigate to C:\users\<account>\AppData\Local\Packages\Microsoft.AAD.BrokerPlugin_cw5n1h2txyewy
Rename "Microsoft.AAD.BrokerPlugin_cw5n1h2txyewy" to "Microsoft.AAD.BrokerPlugin_cw5n1h2txyewy.old"
Log off from the administrator account and log in as the user.
Launch Outlook and Teams; they should work correctly this time.
OneDrive might have been signed out as well, so you can sign in to OneDrive to check if it's also working fine at this point.
2. Create a registry entry EnableAdal and set its value to 1
If the problem comes back after applying the previous fix, you can create a registry entry called "EnableAdal" and set its value to 1. Here are the steps to do that:
Sign out and Close any Microsoft 365 Apps opened.
Press Win + R to open the Run dialog box.
Type regedit and press Enter to open the Registry Editor.
Navigate to HKEY_CURRENT_USER\SOFTWARE\Microsoft\Office\16.0\Common\Identity and create DWORD registry entry EnableAdal and set it to 1.
Reboot your device, then open Outlook and Teams. If the problem persists, move on to the next step.
To address the problem, follow these steps to delete the ADAL Authentication Profile for the user experiencing issues.
Navigate to the Registry location: HKEY_CURRENT_USER\SOFTWARE\Microsoft\Office\16.0\Common\Identity\Identities. Note that the "16.0" part of the path may vary depending on your Office version.
Within the "Identities" registry key folder, you might see several keys.
To find the registry key, Search through the sub keys under the Identities key, and on the right-hand side you will see the EmailAddress and other user settings to confirm if you are in the right folder.
Once you confirm that, you can take a backup of this registry key by Right-clicking it and selecting Export. Save the backup to any folder you like. Once the backup file is saved, Delete the registry key.


Restart your device once.
Open Microsoft Word, Excel, or any Microsoft Office application, and you'll be prompted to sign in to your account for activation. Use your Microsoft 365 organization email address to sign in.
Other Troubleshooting Steps
1. Completely Uninstall Microsoft 365 Apps for Enterprise
Completely uninstall Office with the uninstall support tool including cleaning up of registry entries related to Microsoft office. Download this tool and uninstall office completely. Re-Install it again from portal.office.com.
2. Update your Windows 10/11 device
Press Windows key + I to open the Settings App.
Go to Windows update and "Check for Updates".
3. Re-create Windows Users Profile
You can re-create Windows Users profile by following below steps:
Log off the current User.
Login on the device using Local administrator account.
Go to C:\users\ folder.
Search for the user account namd and rename the folder.
Restart the device and ask the user to login again, it will create a new profile for the user.
More Information:
Connection issues in sign-in after update to Office 2016 build 16.0.7967 – Office 365 | Microsoft Learn
Conclusion
In this blog post, we've explored various methods to resolve the error code 80090016 when using Microsoft Outlook and Microsoft Teams. You can utilize the provided steps in this post to address the issue. It's worth mentioning that in some cases, performing a clean uninstall has completely resolved this problem.
We hope that following the steps in this post will resolve the issue for you. However, if you continue to experience problems, you may consider resetting your system or reaching out to Microsoft support to open a support ticket and seek assistance with the matter.