Overview
There could be several reasons for recreating or resetting an outlook mail profile. Reseting a Mail Profile sometimes fixes a lot of Outlook related issues like slowness in sending and receiving emails, corruption of the mail profile, Global address book (GAL) Issues, Calendar sync issues etc.
As all email items reside on the server for example Microsoft 365, there is no impact on the emails if you reset Outlook mail profile on your PC. Creating mail profile is a way to re-download all the emails in a new outlook profile.
The emails are downloaded in a file with a extenstion .ost (Outlook Data File). In the next sections, we will see where to find the .ost file and how to reset outlook mail profile.
"IMAP accounts, Microsoft 365 accounts, Exchange accounts, and Outlook.com accounts use an Offline Outlook Data File (.ost) file to store a synchronized copy of your mailbox information on your local computer. "
Location of Outlook Mail Profile
Outlook Mail Profile is stored in Application Data (AppData) Directory in your PC. The location of the Mail Profile is %LocalAppData%\Microsoft\Outlook. You can click on Start -> Type Run. When the run window opens, type %LocalAppData%\Microsoft\Outlook and click on OK button.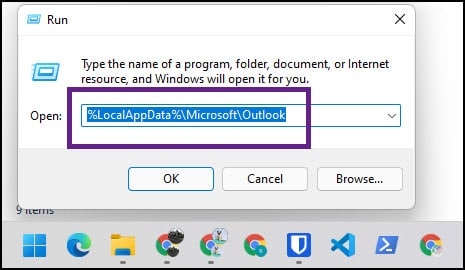 After you hit OK button, you will be able to find .ost file amongst other files and folders. Its a cached copy of your emails downloaded from the email server. Even if you delete this file or rename / delete the whole outlook folder, this will not affect any of your emails which is stored on the email server.
It can be easily re-downloaded again in another .ost file. Before we begin re-creating an outlook mail profile, I wanted to provide you with information about Outlook data file and where its stored.
Please find below screenshot which shows .ost file and highlights the location where it can be found. Please note the size of the .ost file which will be bigger than most of the other files and folders. As the mailbox grows over time the size of the .ost file grows as well.
Not just the .ost file but there are other files and folders which reside in Outlook folder makes up the Outlook Mail Profile.
Other Microsoft Outlook related articles on Techpress
When to recreate / reset an Outlook Mail Profile
Recreating / Resetting an Outlook Profile is sometimes needed when:
The Current Outlook Profile is corrupted – You will find that the Outlook Profile is corrupted when you are performing actions in the Outlook Application and not getting the desired result. For example, when updating a calendar item does not update / show correctly in the calendar, there are delays in sending and receiving emails, Issues while updating calendar items of other team members from your outlook application, contact sync issues etc.
Outlook version Update – In most of the cases you do not need to re-create / reset outlook profile when updating Microsoft Office / Outlook version on your PC. But when you are updating Outlook from a very Old Outlook version for example, Outlook 2010 to Outlook 2016 or Outlook 2019. Sometimes its good to reset and create a new profile which will be optimized w.r.t. to the newer version.
Email Migration from One Email server to another – When an IT admin migrates emails from one email server to another email server. Therefore, for outlook to know about the new email server we need to re-create Outlook Mail Profile. If you do not re-create outlook mail profile then outlook will continue to connect with old email server and you will not be able to send / receive any email.
You just want to Delete and Re-Create Outlook Profile – As a part of troubleshooting, an IT Admin or an end user themselves can re-create an Outlook Mail Profile, There is no harm in doing that except you will loose the custom settings done in Outlook for example Outlook Mail View e.g. reading Pane settings, signature settings etc.
Please note, In all the cases or Outlook Profile reset, Your emails will be re-downloaded again in the Outlook folder (location of the Outlook folder provided earlier). This may take a lot of time depending upon the size of the mailbox / number of email items and bandwidth / Internet Speed.
Therefore, before you reset your outlook profile make sure you have plenty of time to sync the emails in Outlook. While the emails are being downloaded in the background, you will be able to send and receive the emails instantly without any issues.
Reset / Reconfigure Outlook Mail Profile
Please follow below steps to reset your Outlook Mail Profile.
Click on Start -> Type Control Panel to Search for Control Panel.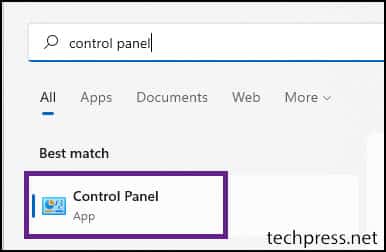 After Control Panel Page opens, search for mail and Find Mail (Microsoft Outlook) Icon. Click on it to open Mail Setup – Outlook window.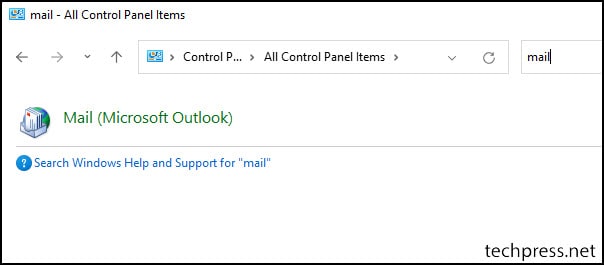 Click on Show Profiles… button.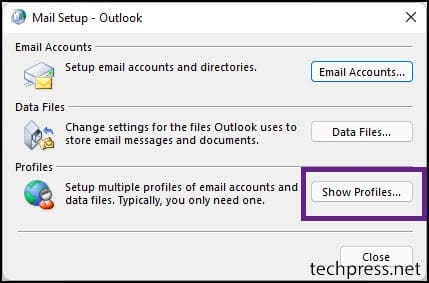 Below shows the list of Outlook Mail Profiles exist on your system. There is currently one Outlook Profile called Outlook. We will create a new Outlook Mail Profile by clicking on Add… button.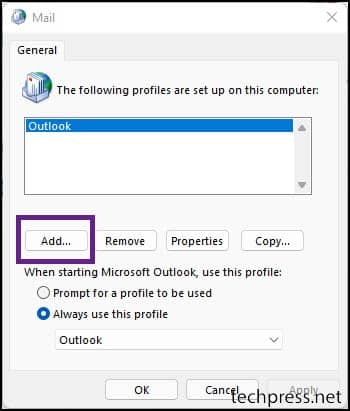 Enter Profile Name on Create New Profile pop-up, You can name it whatever you like, Its for your reference. I have provided a name New_Outlook_Profile. Once you enter the profile name, click on OK button.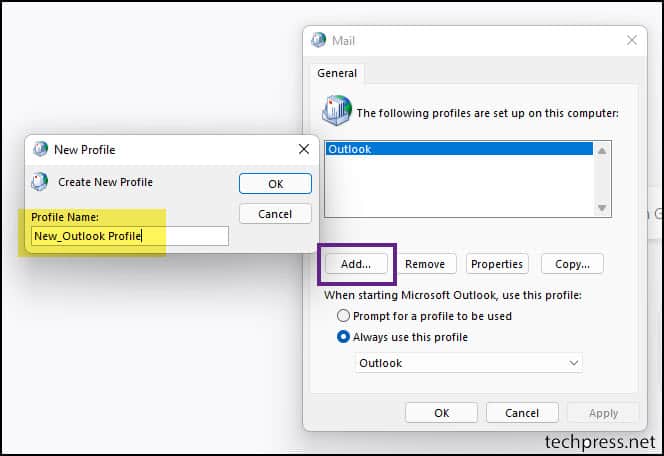 Add Account Setup Windows will automatically pickup the email address if you are logged on to the PC using your email address. If this is not correct, you can change the email address and enter the password. Click on Next > to proceed.
The Account will be automatically added by searching for the email address and connecting to your mail server. You can uncheck the option "Set up Outlook Mobile on my phone, too" and click on Finish.
To be able to use the new outlook profile just created, Use the drop-down "Always use this Profile" and select the newly created Outlook profile and then click on OK button.
When you open Outlook next time, You will see the message on the screen like Loading Outlook… and Retrieving mailbox settings… and in the System tray there will be a pop-up which will say "Outlook is setting up a local copy of your mailbox. It may take several minutes until all of your data is available."
At this point, Outlook has created another .ost file at location %LocalAppData%\Microsoft\Outlook and downloading your emails on your system. Keep Outlook application opened so that all your emails can download in the background.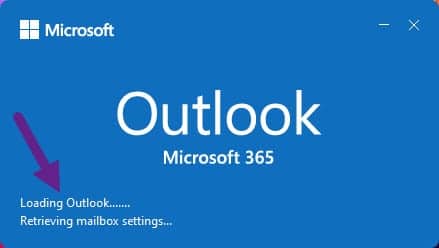 Pro Tip
When there are a lot of issues while working / using Outlook Application e.g. not able to send and receive the emails, offline address book issues, contacts sync issues etc. and you / IT Admin has tried all the steps to fix the issue but the issue persists. In that case, you can close the outlook Application, rename Outlook Folder and launch Outlook Application again. This will create another Outlook folder in the same location with a fresh copy of your Outlook Mail Profile and re-Downloads emails, GAL (Offline address book) etc. This should be the last resort to fix the Outlook Email Issues because its same as switching to another PC and configuring Outlook from scratch.
Adjust the number of email items downloaded / cached on your system
By default Outlook Enables cached mode and downloads past 12 months of email items on your system. This can be adjusted easily using Outlook email account settings.
Let's see how to adjust the number. Before adjusting the number of emails downloaded, you should know that this will increase the size of .ost file which may have impact on the Outlook performance. Also, there should be enough free space available to download the emails.
Launch Outlook Application -> Click on File -> Click on Account Settings drop down -> Click on Account Settings.
Once the Account Settings Window opens, select your email address and then click on Change…
Next Screen will show Exchange Account Settings. You can verify your email address and check Download email for the past: scroll bar. As you can see the default email download duration is 1 year.
You should be able to adjust this scroll bar to adjust the number of emails downloaded. Move the scroll bar to the left or right to adjust it. If you are unable to move the scroll bar and its greyed out then this setting could be controlled by your organization and therefore only IT Administrator can change this setting by updating the related group policy.
You can adjust the scroll bar and download All emails on your PC. This will cache all your emails. Please note if you are having a large mailbox e.g. 50GB or more then downloading all emails could slow down your Outlook Application and could corrupt the mail profile as well. Its recommended to not download All the emails and only cache the emails you need.
Once you update this setting, you need to close the re-open Outlook for the change to get affected. Click on Done to complete the change.
Conclusion
In this blog post, we have seen how to reset your Oulook mail profile and also adjust the number of emails you want to download on your PC. You may require to reset your Outlook Mail profile in case you are facing issues while sending and receiving emails or if your outlook mail profile is corrupt. Creating a new mail profile will re-download a fresh copy of the emails from Email server.