An Outlook Mail Profile is created for you when you set up your email account in your Microsoft Outlook app for the first time. The Outlook profile stores your Inbox emails, contacts, calendars, tasks, autocomplete information, etc. which remains available for you to access offline.
Outlook Mail Profiles can become corrupted, necessitating a reset of the Outlook Profile. There are several reasons why an Outlook Profile might become corrupted, some of the reasons are given below:
Outlook Mail App crashed suddenly
Misconfigured Outlook Mail App
Reasons for Resetting Outlook Mail Profile:
Slowness in Sending and Receiving emails.
To Fix Global Address Book (GAL) Related Issues
To Fix Calendar Sync Issues
The emails are downloaded in a file with an extension .ost (Outlook Data File). In the next sections, we will see where to find the .ost file and how to reset the Outlook mail profile.
IMAP accounts, Microsoft 365 accounts, Exchange accounts, and Outlook.com accounts use an Offline Outlook Data File (.ost) file to store a synchronized copy of your mailbox information on your local computer.

Outlook Data File
Table of Contents
What is the Location of Outlook Mail Profile?
The Outlook Mail Profile is stored in the Application Data (AppData) Directory on your PC. The location of the Mail Profile is %LocalAppData%\Microsoft\Outlook. Let's check the steps below to locate the profile on a Windows 10 or Windows 11 computer.
Press Windows + R to type the Run dialog box.
Type %LocalAppData%\Microsoft\Outlook and click on OK button.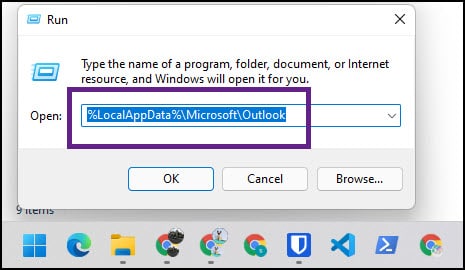 After clicking the OK button, you will find the .ost file among other files and folders. It's a Cached copy of your emails downloaded from the email server. Even if you delete or rename the .ost file or the entire Outlook folder, it will not affect any of your emails stored on the email server.
Please find the screenshot below, which displays the .ost file and highlights its location. Take note of the .ost file's size, which will typically be larger than most other files and folders. As the mailbox grows over time, the size of the .ost file also increases.
Not only does the Outlook folder contain the .ost file, but it also houses other files and folders that collectively make up the Outlook Mail Profile.
Other Microsoft Outlook-related Articles on Techpress
Reasons to Recreate or Reset an Outlook Mail Profile
At the start of the blog post, we delved into some of the reasons for Outlook Mail Profile corruption and the necessity of resetting it. However, there are additional circumstances where recreating or resetting an Outlook profile becomes essential, including:
Outlook version Update – In most cases, there's no need to recreate or reset the Outlook profile when updating Microsoft Office or Outlook versions on your PC. However, if you're upgrading from a significantly older Outlook version, such as Outlook 2010 to Outlook 2016 or Outlook 2019, it is advisable to reset and create a new profile. This ensures optimization for the newer version.
Email Migration from One Email Server to another – When an IT admin migrates emails from one email server to another, it is necessary to recreate the Outlook Mail Profile. Failure to do so will result in Outlook continuing to connect with the old email server, preventing the sending and receiving of emails on the new server.
Any Other Outlook-related Issue – If you encounter any other Outlook-related issues and find yourself unable to resolve them after trying all the recommended troubleshooting steps, you can attempt to reset the Outlook Mail Profile, which might help resolve the issue.
As part of troubleshooting, an IT admin or an end user can recreate an Outlook Mail Profile. There is no harm in doing so, except that you will lose custom settings configured in Outlook, such as Mail View preferences, Reading Pane settings, signature settings, etc.

Important Note
In all cases of an Outlook profile reset, your emails will be re-downloaded to the Outlook folder (as mentioned earlier). The duration of this process may vary, depending on the size of the mailbox, the number of email items, and your bandwidth or internet speed.
Therefore, before resetting your Outlook profile, ensure you have sufficient time for email synchronization in Outlook. While the emails are being downloaded in the background, you can continue to send and receive emails instantly without any issues.
Steps to Reset Outlook Mail Profile
Please follow the steps below to reset your Outlook Mail Profile.
Launch Control Panel

Click on Start > search for Control Panel and click on it to Open.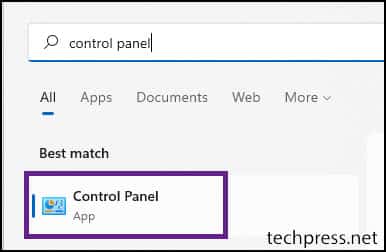 Open Microsoft Outlook Mail Settings

After the Control Panel page opens, search for 'Mail' and locate the 'Mail (Microsoft Outlook)' icon. Click on it to open the 'Mail Setup – Outlook' window."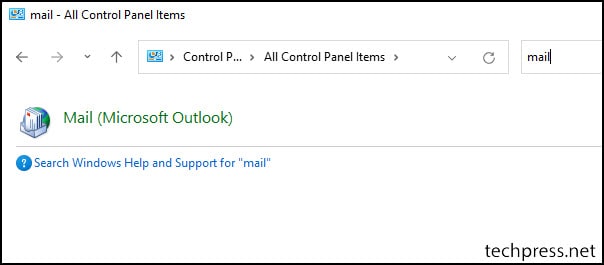 Click on Show Profiles.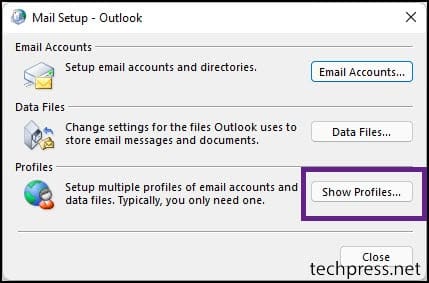 Click on the Add button

Below is a list of existing Outlook Mail Profiles on your system. Currently, there is one Outlook Profile named 'Outlook'. To create a new Outlook Mail Profile, click on the 'Add…' button".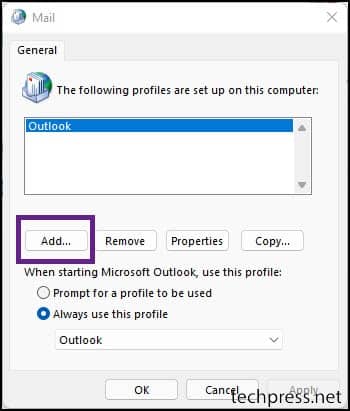 Enter Profile Name

In the 'Create New Profile' pop-up, enter a profile name of your choice. For reference, I've provided the name 'New_Outlook_Profile.' After entering the profile name, click the 'OK' button.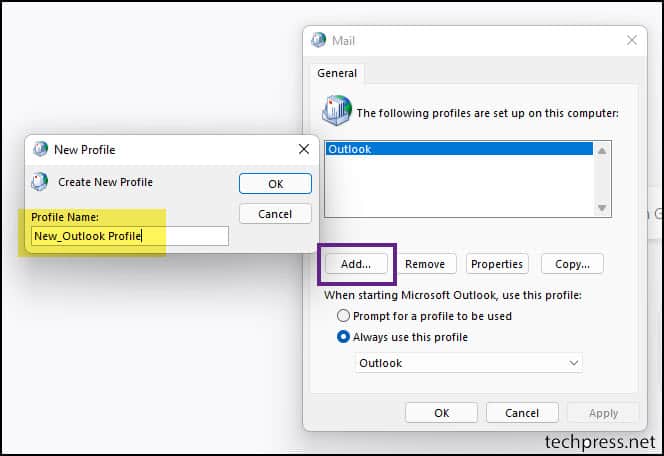 Verify your Email Account Name and Email Address and click on Next.
The account will be automatically added by searching for the email address and connecting to your mail server. Optionally, you can uncheck the option 'Set up Outlook Mobile on my phone, too' and then click on 'Finish'.
To use the newly created Outlook profile, select it from the drop-down under 'Always use this Profile' and then click the 'OK' button.
When you open Outlook the next time, you will see a message on the screen saying 'Loading Outlook…' and 'Retrieving mailbox settings…' Additionally, in the system tray, a pop-up will appear, stating 'Outlook is setting up a local copy of your mailbox. It may take several minutes until all of your data is available'.
At this point, Outlook has created another .ost file at the location %LocalAppData%\Microsoft\Outlook and is downloading your emails onto your system. Keep the Outlook application open to allow all your emails to download in the background.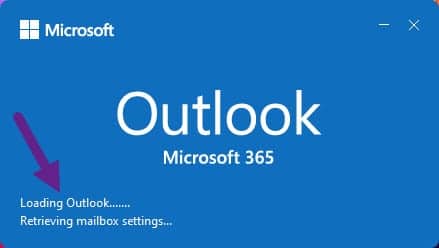 Pro Tip
When encountering numerous issues while working with the Outlook application, such as being unable to send or receive emails, offline address book problems, contact sync issues, etc., and having exhausted all troubleshooting steps without resolving the issue.

You or the IT Admin can take the following steps:

1. Close the Outlook application.
2. Rename the Outlook folder located under %LocalAppData%\Microsoft\ folder
3.Relaunch the Outlook application.

This action will generate a new Outlook folder in the same location, containing a fresh copy of your Outlook Mail Profile and re-downloading emails, Global Address List (Offline address book), etc. This should be considered a last resort to address Outlook email issues, as it is similar to switching to another PC and configuring Outlook from scratch.
Fine-Tune Your Inbox: Manage the Quantity of Cached Emails
Outlook enables cached mode by default, downloading the past 12 months of email items to your system. You can easily adjust this setting through your Outlook email account settings.
Let's explore how to adjust the number. Before making changes to increase the number of emails downloaded, it's important to note that this will also increase the size of the .ost file, potentially impacting Outlook performance. Additionally, ensure there is enough free space available to accommodate the downloaded emails.
Launch the Outlook application.
Click on the "File" tab in the top-left corner.
From the dropdown menu, select "Account Settings".
In the submenu, click on "Account Settings" again.
After opening the Account Settings window, select your email address, and then click on 'Change…'
The next screen will display the Exchange Account Settings. Verify your email address and check the 'Download email for the past:' scroll bar. The default email download duration is set to one year.
Adjust the scroll bar to set the desired number of emails to be downloaded. Move the scroll bar left or right accordingly. If you find the scroll bar greyed out and unable to adjust, this setting may be controlled by your organization. In such cases, only the IT Administrator can modify this setting by updating the related group policy.
You can adjust the scroll bar to download all emails on your PC, effectively caching all your emails. However, please note that if you have a large mailbox, such as 50GB or more, downloading all emails could potentially slow down your Outlook application and even lead to mail profile corruption. It is recommended to avoid downloading all emails and only cache the ones you need.
After updating this setting, close and reopen Outlook for the changes to take effect. Click on 'Done' to complete the process.
Conclusion
In this blog post, we've covered how to reset your Outlook mail profile and also adjust the number of emails you want to download on your PC. Resetting your Outlook mail profile may be necessary if you encounter issues with sending and receiving emails or if your Outlook mail profile becomes corrupt. Creating a new mail profile will ensure a fresh download of emails from the email server.