Microsoft Paint is a simple graphics editor which is by default installed on all editiion of Microsoft windows. The Text tool in Paint app can be used to add text to Images. To write text in Paint app, you can use available fonts installed on your device. However, if you have a special font which you want to use in paint app, then you would need to Install it first on your device.
In this blog post, we will see how to download a new font on the device and add it to the Paint app. I will be using a Windows 11 computer for this blog post. However, if you are using Windows 10 or any other Windows device, steps for adding or installing a font will remain the same.
Microsoft Paint has been updated in Windows 11 with new visual designs and features along with simplified toolbar, color section and text tools. To launch Microsoft Paint on your computer Go to Start 🪟and type Paint. You will find an app called Paint in the results. Click on it to launch the Paint app.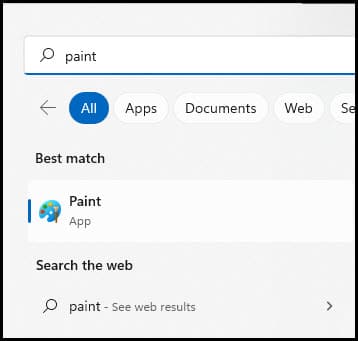 Alternatively, another quick way to open Microsoft Paint app is to Launch Run (shortcut Win + R) and type mspaint and press Enter.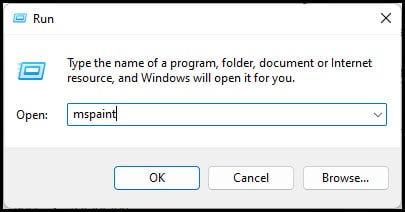 Once you have opened Microsoft paint, you will find Text [A] Icon in the toolbar. Click on it to show the Font Stying options which also shows the fonts that are available for use. If you do not find your font in the list then follow the steps in the next section to add a font here.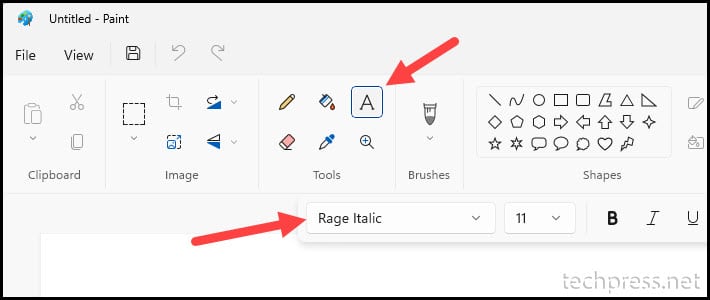 Download and Install the font
First step is to download the font from Internet. There are lots of websites which allow you to download free fonts that can be installed on your device and free to use forever. However, there are some special custom fonts which require license for its use. Make sure you go through the Font's documentation to know which one's are free and which one requires a license.
One of the free font website is Google Fonts which contains open source fonts and without any cost involved. You can download the font and install it on your device and use it as you like. To know more about Google Font's usage, check out the Google Fonts FAQs page.
Today I will be downloading a font from Google Fonts website called Rubik Bubbles. This font is currently not available on my device and paint app. Let's check the steps on how to download and Install this font:
Launch any browser e.g. Google Chrome or Microsoft Edge.
Go to Google Fonts website.
Search for Rubik Bubble font using the search box. You can search for any other font as well as per your requirement.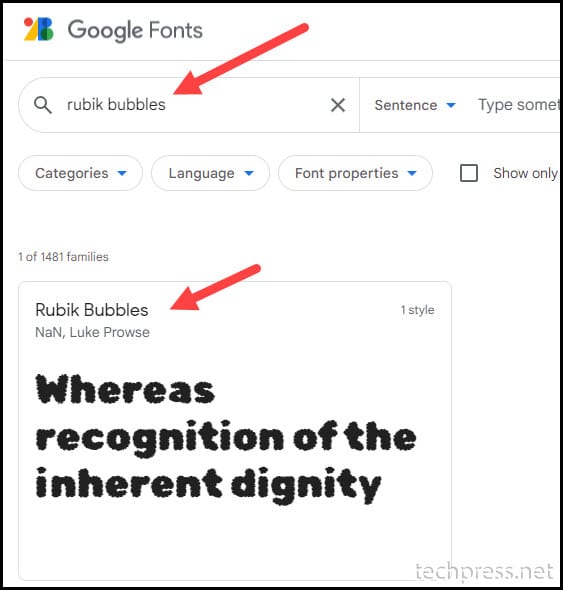 Click on Download Family to download the font.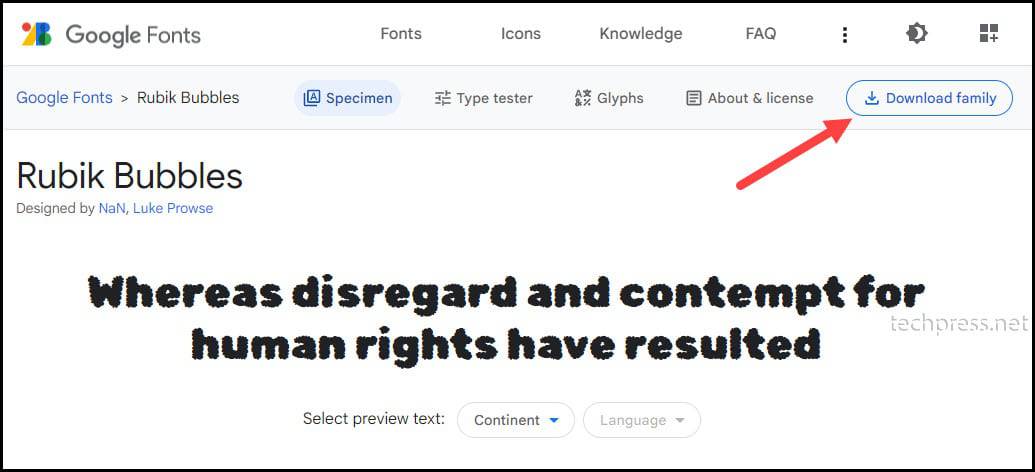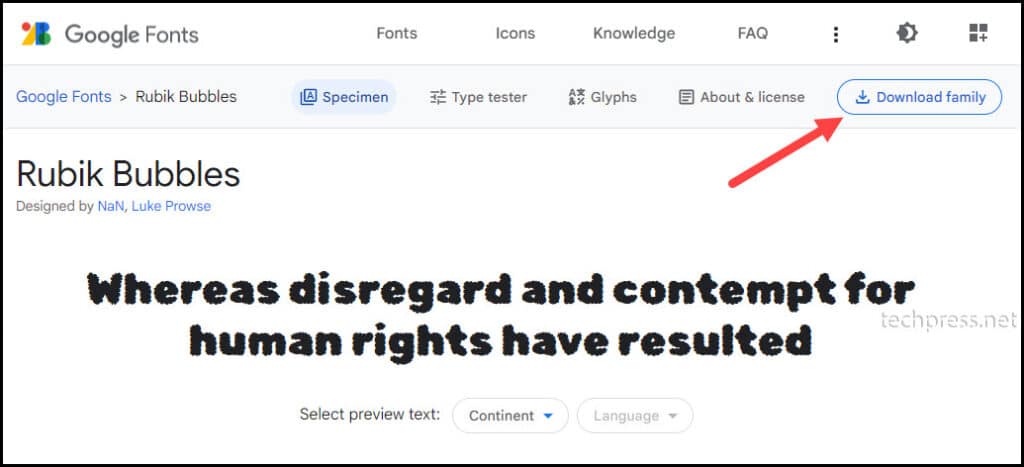 Font will be downloaded in a zip file. If you are using google chrome browser, you will find the downloaded file at the bottom left of the page. You can right click on it and then click on show in folder. Alternativaly, you can find this downloaded file in your downloads folder.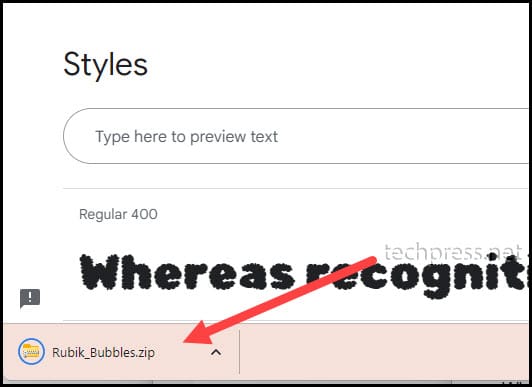 Right-Click on the zip file and then click on Extract All. Follow the wizard to extract it in a folder.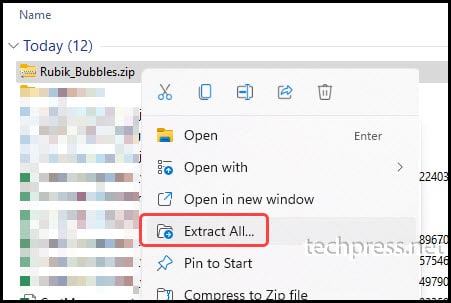 After you extract the zip file, open the folder and you will find a file RubikBubbles-Regular.ttf. This is the font file we need to Install.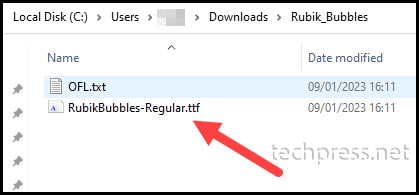 Double-click on RubikBubbles-Regular.ttf and then click on Install to Install this font. Once you Install the font it gets saved in C:\windows\fonts directory and available to all users on the device.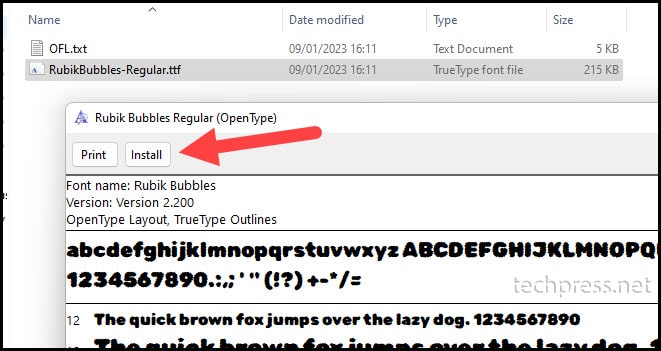 Verify the addition of font to Microsoft Paint App
Launch Paint app and then click on Text Icon [A] in the toolbar. From the font drop down, scroll through to find the recently installed font called Rubik Bubbles. Click on it to select the font and start using.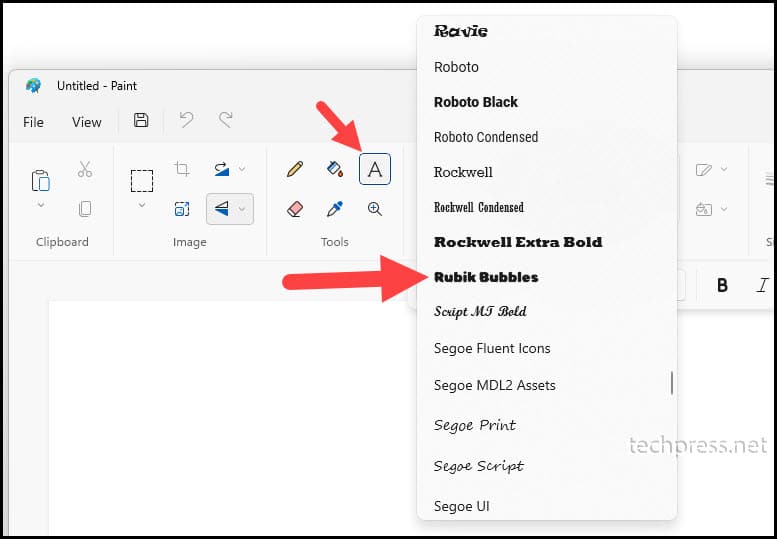 How to Uninstall or Remove a font from Paint App
As we have seen how easy it is to Install / add a new font to Paint app. It could be the case that you no longer need a font anymore. For example, If its a licensed font purchased from a third party company and license of this font usage is expired then you can remove this font from your device.
Once the font is removed from the device, it will not be available in any other app as well apart from Paint and license of the font will be released and will not have to pay any future costs for this font.
In the previous section of this blog post, we Installed a font called Rubik Bubbles, Let's see how to Uninstall this font. The Uninstallation steps will remain the same if you are uninstalling any other font as well.
Make sure you have administraor rights on the device before proceeding:
First Close all open applications. If possible, you can restart your PC so that font is not locked or in use anywhere on your device.
All the fonts are stored at C:\windows\fonts directory. There are many ways to Uninstall a font on your device. I have listed all the options below. Whichever one you choose will lead to fonts directory or fonts management page.
You can browse to this folder path by using File Explorer.
Or You can go to Start 🪟and search for fonts folder.
Or You can go to Start 🪟-> Type Run -> In the Run box type fonts and then press Enter.
Or You can go to Settings ⚙️-> Personalisation -> Fonts.
I am choosing to use Settings app for fonts management, therefore Go to Settings ⚙️-> Personalisation -> Fonts.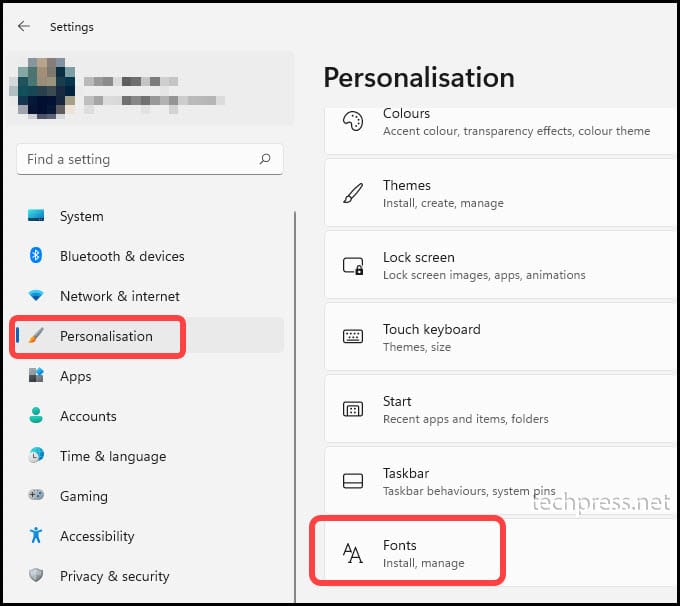 Search for Rubik bubbles font or search for the font which you want to Uninstall. Click on it to Open the Font Information page.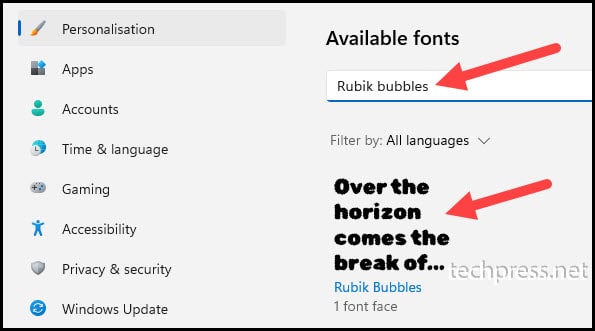 Click on Uninstall button to start the Uninstallation process.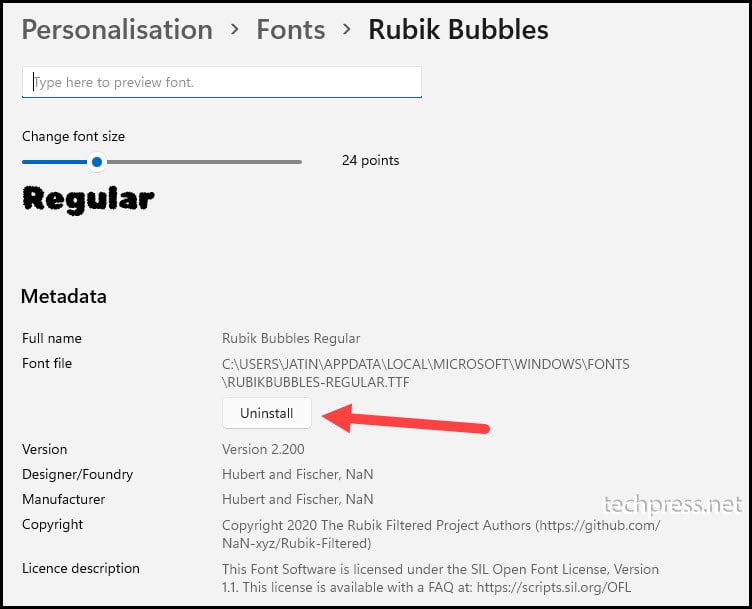 After you click on Uninstall button, you will get a pop-up message to confirm if you are sure to delete this font permanently. Click on Uninstall again to complete the Uninstallation process.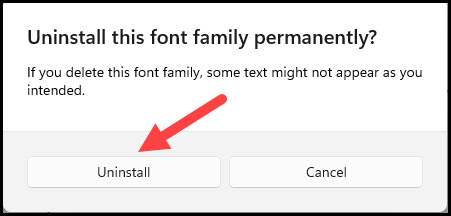 Conclusion
Its very easy to download and Install a font on your device and then use it in the paint app. You can download the font on your device and double-click on the .ttf file to install the font on a windows 11 device. The font Installation location is C:\windows\fonts. If you have a lot of fonts to Install then instead of manually double-clicking on each .ttf file and clicking on Install button, you can copy all the .ttf files in C:\windows\fonts location to Install all the fonts at once and use it in Paint App. Uninstall the font when its no longer needed and specially if its a licensed font.