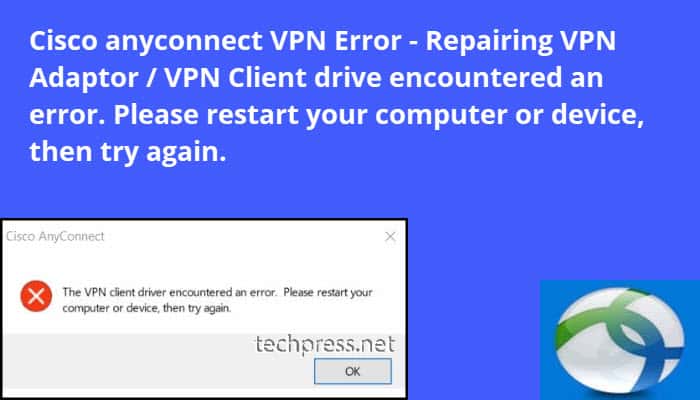 Cisco anyconnect is an application used for Point to site VPN Connection. Which means that this application is used to establish a VPN connection from a remote machine to the Cisco Device which further provides a secure end to end encrypted connection to the internal office network.
The application needs to be installed on the system and user then types the VPN server address, username and password + 2FA (Two Factor Authentication, if configured) and establishes a connection provided authentication is successful.
After user enters username and password it tries to establish VPN session, you may get an error "Repairing VPN adaptor…" and it eventually fails to connect. Below are the screenshots of the error message you may get:
Launch Cisco AnyConnect Secure Mobility Client and type the VPN server address. Press Connect button to establish the connection.
You may received the error message "The VPN client driver encountered an error. Please restart your computer or device, then try again."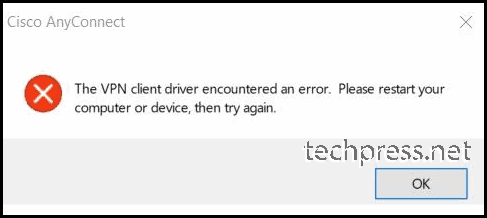 You can find more information about the error on Cisco Anyconnect client.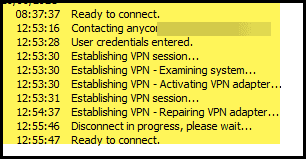 How to fix VPN client driver encountered in Cisco Anyconnect
There is no easy fix or straight forward solution of this issue. However, I can guide through through the areas where you can look at and try to fix this issue. It could be one of the below point or area where the issue exist.
If it still does not fix the issue after you have gone through below points, then you may have to check the VPN configuration on the Firewall or Server or Router (whichever device where the VPN setup/config exist) and verify the setup / configuration again.
Uninstall Cisco anyconnect –> re-install the latest version from Cisco website and Test again.
Check Event Viewer on Local machine and go to Application and Services logs -> Cisco Anyconnect Secure Mobility Client. Go through the errors, warnings to find more information.
Click Start -> Run -> type ncpa.cpl -> Press enter to reach Network connections Page. Right click on Cisco anyconnect secure Mobility client connection -> Properties. Disable / Uncheck Internet Protocol Version 6 (TCP/IPv6) and try again.
Check the DHCP Pool on the Cisco Firewall or Router (wherever you have configured DHCP Pool for VPN Connections) and make sure its not running out of IPs.