You can create recurring meeting schedule in Google Calendar or a Single one off event. However, there could be a scenario when the events are no longer happening and you wish to remove it from your Google Calendar.
Deleting a recurring events from Google calendar is easy compared to if you have a lot of Single one off events distributed across your calendar. Let's check how to delete each one of them.
Delete All recurring / repeat meeting events in Google Calendar
If there is a meeting in your Google celandar which is recurring and no longer valid then its best to clean it up and remove the unwanted entries. Please follow below steps to delte recurring meeting invites in Google Calendar:
Open your Google Calendar.
Find the recurring event which you want to delete.
Click on the recurring event and then click on Delete Icon.
After you click on Delete Icon, you will get three options for Deleting recurring event:
This event – If you select This event radio button, then only selected event will be deleted.
This and following events – If you select This and following events radio button, then this event along with all future events will be deleted but not the past event entries for this recurring event.
All events – If you select All events radio button, then All recurring ecent entries will be deleted including the past recurring event entries.

Delete all Single One off events in Google Calendar
You can delete single one off events in Google Calendar but not the way we did for recurring events. When you are deleting a recurring event, you are presented with three options and one of the option is to delete All events which deleted all recurring meetings.
But as single meeting events are individual events there is no way to delete it at once. But there are easier methods to delete multiple single events which we will look into next.
Delete single meeting events
To delete single meeting events quickly and easily. You first need to change the view of your Google Calendar.
Go to Google Calendar and from the top next to settings Icon click on the drop-down and select Schedule.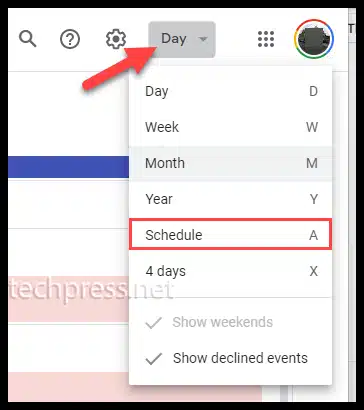 Click on Search Icon at the top and search for the meeting which you want to delete.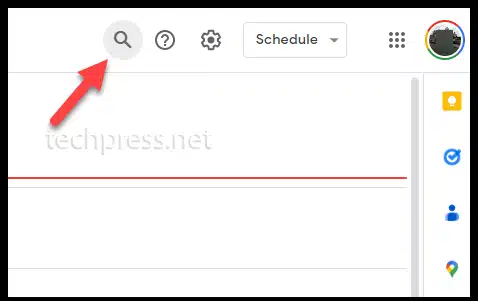 Search for the meeting to find all occurance of it in your calendar. Then Click on each one and Click on Delete Icon to delete the Single Event / meeting. Follow the same process to delete all meeting occurance of it one by one.

How to Delete Google Calendar entries using command Line
You can connect to Google Calendar using command line and then use it to manage google calendar entries. You can search for events, add new events, delete events, edit events, see recently updated events, and even import those annoying ICS/vCal invites from Microsoft Exchange and/or other sources.
There is a Python application available on Github. Please note that I have not tested this application for its purpose. However, if you intend to do so, please make sure you test it fully to understand how it works and if there is any impact on any user.
Conclusion
As you have seen how easy it is to delete recurring meeting events in your Google Calendar. However, there is no other way to delete the Single one off meeting events at once. You will have to delete each entry one by one and Schedule view makes this a bit easier. If you accidently deleted any meeting event, you can always click on Settings Icon and then Click on Trash and Restrore deleted meeting events back from Trash. Events are only saved in a calendar's Trash for 30 days.